This pregnancy is moving right along and I am growing right along with it. Goodbye flat stomach and hello to the upcoming second trimester baby bump!
How Far Along:
12 Weeks (or…12 weeks 5 days)
Due Date:
June 22nd 2013
Boy or girl:
We d
o not know the gender yet.
Bump Picture:
Woo Hoo! I have popped out a bit... Sorry for the blurry picture. My 3 year old took this photo while I was comforting my 1 year old.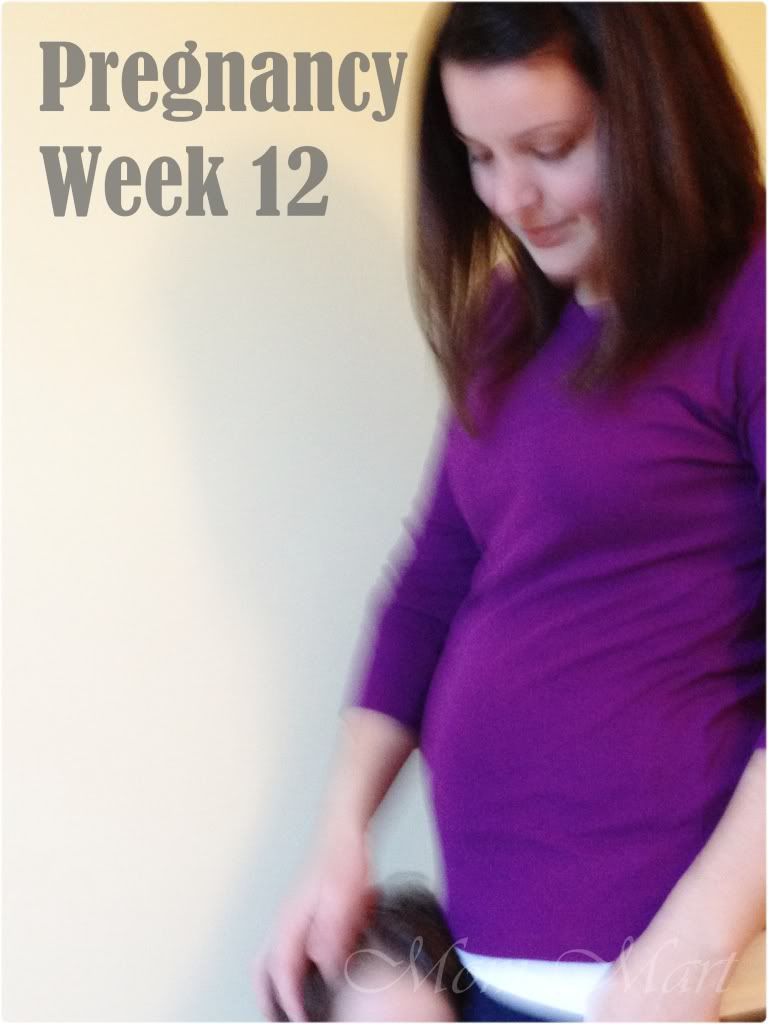 Baby Development:

From crown to rump, my baby-to-be is just over 2 inches long (the size of a lime) and weighs half an ounce.

As far as development this week the baby's cells are multiplying rapidly and synapses are forming furiously in my baby's brain.

the intestines are beginning to move from the umbilical cord to the abdomen

and the eyes are moving from the side of the head to the front.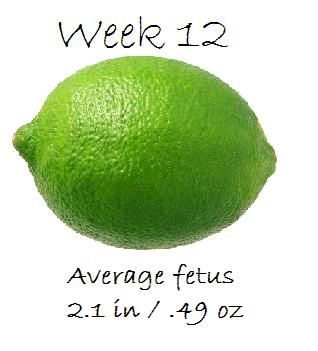 Symptoms:
I am still dealing nausea throughout the day. - I am so ready for this morning sickness to go away! I am still really tired and have been trying to take a nap when the kids take their nap (though my oldest has been making this difficult as of lately). I am also super sensitive to smells. It is like I have a super power – a super sniffer.
Currently craving:
Tuna sandwiches, gyros, and organic pears.
Currently Avoiding:
A majority of food especially deli meat, chicken, and spaghetti sauce.
Movement:
No movement to date. But it is still really early for me to feel any movement.
Names:
I have a baby girl name picked out and my husband has a baby boy name picked out (although we do not agree on it).
Any appointments?:
My n
ext appointment is next week.

Right before everything shuts down for Christmas.
Any baby related purchases?:
none so far.
Other:
I have been feeling very bleh lately. My hormones are making me very moody and I have been crying over the silliest things… Really. I cried at the ending of Cars (yes that movie about animated vehicles) when Lightning McQueen stops to help the hurt race car at the end. Seriously.
As a wonderful aside I just found out that my sister-in-law is going to be having a baby girl. So this means that I get to throw a baby shower (I love party planning) and help her register (I LOVE LOVE LOVE baby gear). The best part is that my little muffin is going to have a cousin the same age. I could not be happier!