How Far Along:
13 Weeks (or…13 weeks 5 days)
Due Date:
June 22nd, 2013
Boy or girl:
We d
on't know the gender yet.
Bump Picture:
Looking good… Ha ha ha!... I am hoping that if I keep telling myself this that I won't mind the pasty drained exhausted look that I am sporting quite so much. Once again my son is my photographer and this was the least blurry picture out of the 10 or 12 that he took :)
Baby Development:
Fingerprints have formed and his/her body is starting to catch up with her head — which makes up just a third of her body size now. My baby is almost 3 inches long and weighs nearly an ounce.

Baby is forming vocal chords and teeth too!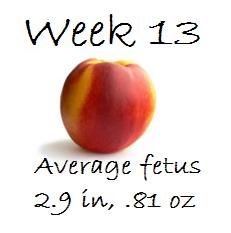 Symptoms:
I am still suffering from morning sickness, but it is starting to take place just in the morning and I have noticed that if I start to get nauseous snacking helps. My doctor asked if I would like to be on Zofran (which is the anti-nausea medication they gave me when I was pregnant with Steven and couldn't keep down anything). I declined because I am hoping to be done with my morning sickness in a week or so. Fingers crossed!
Currently craving:
Jimmy Johns, PICKLES, and eggs.
Currently Avoiding:
spaghetti sauce still makes me want to puke. I don't know why but I have not been able to eat spaghetti in the first trimester with any of my pregnancies.
Movement:
No movement to date. But it is still really early for me to feel any movement.
Names:
I have a baby girl name picked out and my husband has a baby boy name picked out (although we do not agree on it)… I am starting to warm up to his boy name though.
Any appointments?:
My n
ext appointment is in four weeks and we should be scheduling my gender revealing ultrasound then!
Any baby related purchases?:
none so far.
Other:
I was really excited with my last visit to my OBGYN office because I got to hear the baby's heartbeat clearly for the first time. I was not able to hear the heartbeat at my 10 week appointment with the fetal Doppler machine., but at my 14 week appointment (which I had to make a wee bit early thanks to the holidays) I was able to hear the heartbeat loud and clear!